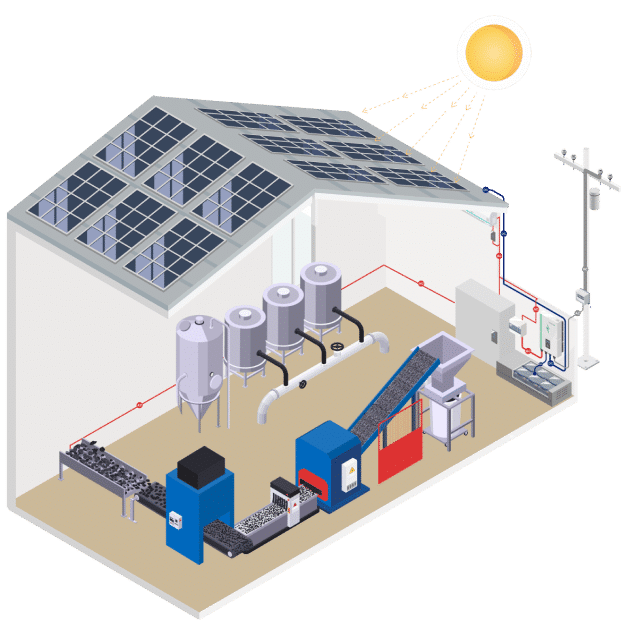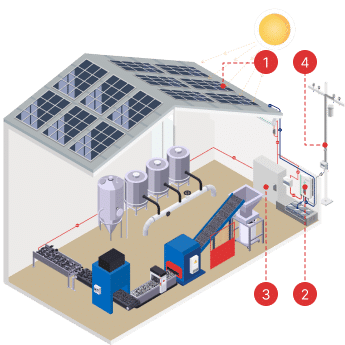 1. Solar Panels
Qualified solar PV panels are installed on the rooftop of the factory / building to get maximum solar radiation and produce electricity by the photovoltaic effect.
2. Inverter
The electricity from solar panels is converted into Direct Current (DC) and then flows through cables into inverters. These inverters convert DC electricity into Alternating Current (AC) which can be directly used by the factory / building.
3. Switchboard
The solar system will be configured so it does not interfere with (i) EVN supply and (ii) production / operation underneath the roofs.
4. EVN Grid Connection
Electricity costs paid to EVN will be lower by offsetting the self consumption from the solar panels.
frequently asked question
01. Is my business suitable to partner with SkyX Solar?
Our ideal client profile is:
1. Reputable business; and
2. Average Electricity Consumption is at least VND 400mn/month
If your business fits this profile, please send us an email at [email protected] or simply call our hotline at +84 28 2202 6999.
02. Can my roof withstand the weight?
This is one of our first checks during our site visit. Our structural engineers will evaluate your building, roof strength and other factors to determine if solar system can be installed as well as the right type of mounting structure and equipment suitable for your site. A third party will also come to check the roof structure after signing the contract.
03. Do I need to clean and manage the system?
Not at all. We will take care of all operations and maintenance of the system including cleaning and preventive maintenance.
04. What happens if my roof is damaged during installation?
We have an experienced international team and a strong company focus on design and process so this is extremely unlikely. However we would ensure we would cover any unlikely damage through insurance so there is zero risk to you.
05. Do I need to get local permits to install solar rooftop on my building?
No, let us take care of all that for you. Apart from designing, installing and operating the system, our team manages all local permitting and compliance to ensure a truly hassle-free experience for you.
06. Will this mean disconnecting my current power connection to EVN?
Not at all. The solar system will augment the power supply and be the first point of supply to your facility. The existing grid connection will continue to supply power to fulfill additional requirements including power beyond solar peak hours.
07. What happens if I need to sell or move from this building?
We have provisions for this in our contract; the most simple solution would be for the new owner to take over the contract, but we have other options too in case they don't wish to.
08. Do roof owner have to buy insurance for the system?
No, all of SkyX's projects enjoy the EDF-R Global Insurance program. Total third party liability for the System owned by the Developer on the Client's Premise shall be at USD 5 million per occurrence which is 5 times more than the average insurance in Vietnam
09. If I want to buy the system after several years, what is the redemption fee?
Yes, The market value per MWp will be mentioned in the PPA. If you choose to do so, we will also do our best to hand over the system and all of related contracts and O&M instructions
10. Will construction and installation affect the production activities below?
Absolutely not. However, we will need to shut down the electrical system for about 1-2 hours for connection. We will notify you and both parties agree on a suitable time. If necessary, we can flexibly transfer construction hours to the time frames when the factory has the least production i.e. Sunday/holidays
11. Will installing a solar power system affect my roof structure? Does the system cause the roof to leak? If yes, who will bear the repair cost?
Before installation, we will hire a 3rd party to evaluate the roof structure of the factory to see if it is suitable for installation (cost is borne by SkyX). In case the roof structure is not eligible, we may consider paying the cost of renovating the roof structure; however, the offer for customers will be adjusted. In addition, the installation of a solar power system helps in reducing the temperature below the roof by 5-7 degrees, and reduces the environmental impact on the roof, thereby increasing the life of the roof. In the event that it is proven that the roof is damaged or leaking due to SkyX's fault, then SkyX will bear the cost of this repair.