Vietnam majorly relies on electricity generation from coal-fired power plants to meet the country's rapidly increasing electricity demand; during 2020, coal accounted for more than half of Vietnam's total electricity generation. Hydropower also plays a key role in the country's electricity generation due to the availability of a number of natural resources and large rivers, including the Mekong. However, the availability of hydropower energy is affected by periods of intermittency due to droughts and water shortages.
In recent years, the Government of Vietnam has also increased its efforts in expanding non-hydro renewable capacity that is expected to aid the country to reduce its dependency on coal, lower carbon emissions, and boost energy generation capacity. In 2020, non-hydro renewable energy sources such as wind and solar accounted for 5 percent of Vietnam's total electricity generation. In line with this, Vietnam's draft of the power development plan 8 (PDP 8) departs from previous plans, which focused on the development of hydropower, coal, and natural gas sources.
Under the draft PDP 8, the Government of Vietnam intends to increase solar capacity to 18.6 GW and wind capacity to 18 GW by 2030. In 2020, Vietnam's solar and wind capacity was 16.6 GW and 0.6 GW, respectively. Since 2019, Vietnam has emerged as the leader in solar and wind power generation in the ASEAN region. The country surpassed Thailand as the country with the most installed solar and wind capacity. While most ASEAN countries have similar prospects, they have yet to see the fast growth in solar and wind energy development that Vietnam has seen.
A study called "Vietnam's solar and wind power success" published in the Energy for Sustainable Development (Volume 65) examines the elements that have enabled Vietnam's recent rapid expansion of solar and wind power, with policy implications for other Association of Southeast Asian Nations members (ASEAN). Policy insights can be gained by comparing Vietnam to the other ASEAN countries. Feed-in tariffs were discovered to be a primary factor, along with income tax and land lease payment exemptions.
The Association of Southeast Asian Nations (ASEAN) has a population of around 650 million people. Its electricity consumption has been projected to more than double between 2018 and 2040, reaching about 2000 TWh per annum (ASEAN Centre for Energy, 2020). Electricity generation in ASEAN is dominated by fossil fuels, with natural gas and coal accounting for around 78% of the total in 2018. ASEAN's "aspirational target" is to expand the share of renewables in the total primary energy supply (excluding traditional biomass) to 23% by 2025 (ASEAN Centre for Energy, 2020). However, on the current trajectory, this target is likely to be missed (International Renewable Energy Agency, 2018).
Since 2019, Vietnam has emerged as the leader in solar and wind electricity adoption in the ASEAN area. The country overtook Thailand and had the largest installed solar and wind capacity in 2019. Vietnam's total capacity of solar photovoltaic (PV) reached about 16,500 megawatts (MW) by the end of 2020 (International Renewable Energy Agency, 2021). This far surpassed the original 2020 target of 850 MW (Government of Vietnam, 2016) and is even approaching the tentative target of 18,600 MW of installed solar power capacity by 2030 that appears in the draft version of Vietnam's Power Development Plan 8 (Vietnam Energy Institute, 2021). More than 100,000 rooftop solar PV systems were installed in Vietnam in 2019 and 2020, an extraordinary achievement (Electricity of Vietnam, 2020). While most of the ASEAN countries share similar opportunities, they have yet to experience the rapid progress in solar and wind development seen in Vietnam.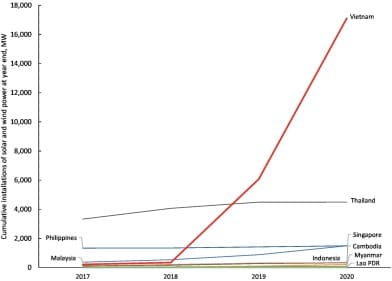 Vietnam's solar and wind electricity generation rose from 4.7 TWh in 2019 to 9.5 TWh in 2020. This equaled a 1.98 percentage point increase in the share of total electricity generation (BP, 2021). The rate of increase in the solar plus wind share of the electricity mix in Vietnam in 2020 was much faster than that achieved in the broader Asia-Pacific region or the world as a whole. Elsewhere in ASEAN, Malaysia, Singapore, and Indonesia saw smaller increases, while the solar plus wind share of the electricity mix actually declined in Thailand and the Philippines due to relatively stagnant uptake of these renewables and rapid growth in the use of other electricity sources. These countries have set renewable energy targets and applied policy instruments such as feed-in tariffs, but with mixed success.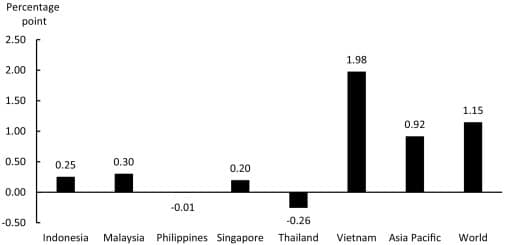 While solar PV has seen the greatest expansion in Vietnam, installed wind power capacity has also grown quickly. Installed wind power capacity reached 600 MW by the end of 2020, behind only Thailand (1507 MW) among the ASEAN countries. In 2020, Vietnam's annual wind power capacity growth rate was 70%, while the other ASEAN countries did not expand their wind capacity (International Renewable Energy Agency, 2021). Vietnam has the most ambitious wind power development plan in ASEAN, with a tentative target of 11,800 MW of wind power capacity by 2025 (Vietnam Ministry of Industry and Trade, 2020). The targets of Thailand and the Philippines are about 3000 MW by 2036 (Climate Scorecard, 2020) and 2378 MW by 2030 (Philippines Department of Energy, 2011), respectively. Vietnam's cumulative solar and wind power installed capacity was 176 W per capita in 2020, the highest among the ASEAN countries. Understanding the underlying drivers of Vietnam's success could help the other ASEAN countries to formulate suitable policies for boosting the use of these renewable energy technologies.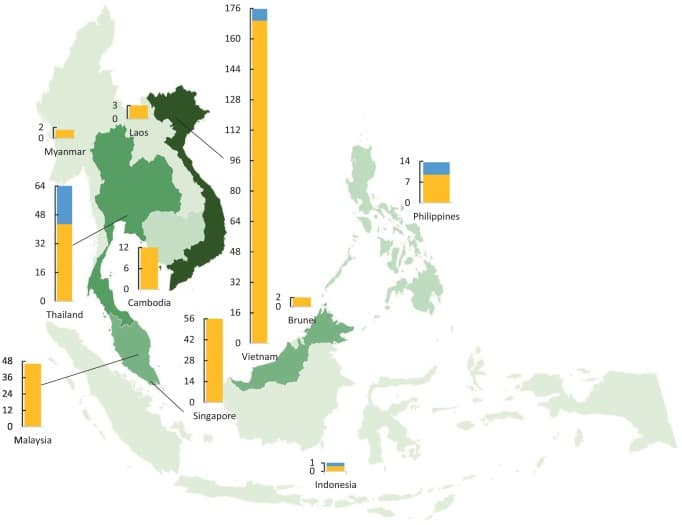 According to the expert interviewees, the government's commitment to energy availability was the most important motivation for Vietnam's solar and wind policies. The Prime Minister's consistent message has been to not let electricity shortages happen given the importance of electricity to socioeconomic development (Dang & La, 2019). Solar and wind have emerged as increasingly viable options for capacity expansion because of their rapid cost reductions and the relatively short construction time for new power plants, especially for solar power.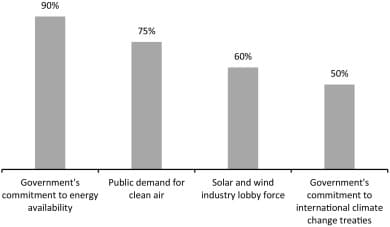 Public demand for clean air was identified by the interviewees as the second-most important driver. They pointed out that advanced monitoring technologies have helped to facilitate growing public awareness about air pollution, as one can now easily check air pollution levels in real-time using widely available smartphone applications. Civil society has also played a growing role in voicing concerns about worsening air pollution. This has contributed to rising resistance to new coal power projects, particularly at the provincial level.
Notably, the interviewees reported that the emerging lobbying power of the solar and wind industry has been a relevant factor. As Vietnam is a potentially lucrative market, mergers and acquisitions of solar and wind projects have been on the rise, with the key investors coming from Thailand, Singapore, and the Philippines (Apricum, 2020). While the fossil fuel industry remains powerful (Dorband, Jakob, & Steckel, 2020), its influence has begun to wane because of public concerns about its negative environmental and health impacts and the government's anti-corruption campaigns targeting the industry.
The government's commitment to international climate change treaties has also been a driver of solar and wind policy development. In 2020, Vietnam adjusted its nationally determined contribution (NDC) to commit to reducing greenhouse gas emissions by 9% or 27% in 2030 relative to business as usual without and with international assistance, respectively (Government of Vietnam, 2020). For the energy sector, targets are for emissions reductions of 5.5% (unconditional) and 11.2% (conditional) below business as usual.
Feed-in tariffs
The interviewed experts all believed that generous solar FITs have been the proximate driver of solar PV adoption. The first FIT was launched in 2017 by Prime Ministerial Decision 11/2017/QD-TTg (Government of Vietnam, 2017). Solar power projects—both utility-scale and rooftop—that started operation prior to 30 June 2019 can sell their electricity to state-owned Vietnam Electricity and its subsidiaries at a FIT of US$93.5/MWh for 20 years.
In April 2020, the Prime Minister issued Decision 13/2020/QD-TTg to usher in reduced FITs of US$83.8/MWh for new rooftop solar projects, US$70.9/MWh for new ground-mounted solar PV, and US$76.9/MWh for new floating solar projects. Projects that entered commercial operation by 31 December 2020 were eligible, with the FITs being applicable to electricity generated over the next 20 years. As of early 2021, the next stage of the FIT program has yet to be decided.
Vietnam's solar PV FITs have been generous. Estimated that the average LCOE for solar PV in Vietnam in areas excluding protected areas, water bodies, forested areas, agricultural areas, urban areas, and areas with slopes greater than 5% was around US$87.5/MWh in 2018. With a reduction rate of 13% per annum (International Renewable Energy Agency, 2019), these LCOEs would be about US$76/MWh in 2019 and US$66/MWh in 2020. Therefore, FITs of US$93.5/MWh before June 2019 and US$70.9–US$83.8 per MWh thereafter have been attractive, especially given that project developer have focused on the best available sites in the south of the country. The expiry of the two FITs created booms in solar PV installations as market participants rushed to capitalize on the opportunity. Almost 7 GW of rooftop solar PV was installed in December 2020 alone, a remarkable achievement (Vietnam Energy Partnership Group, 2020).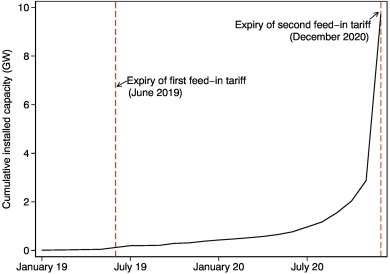 The FITs for wind power have been less immediately effective. The first FIT for onshore wind was issued in 2011 through Decision 37/2011/TTg-QD of the Prime Minister, with the FIT set at US$78/MWh. Only about 100 MW was installed between 2011 and 2018 under this FIT. In 2018, the FIT for onshore wind increased to US$85/MWh, and a new FIT for the offshore wind of US$98/MWh was introduced under Decision 39/2018/TTg-QD of the Prime Minister. As of the end of 2020, installed wind power capacity had reached 600 MW, of which 100 MW was offshore (Prime Minister, 2021). One of the reasons why short-run booms have been seen for solar but not wind is that solar projects are quicker to implement. This is particularly the case for rooftop solar.