The 26th Conference of the Parties to the United Nations Framework Convention on Climate Change (COP26) took place with strong commitments to fight against climate change. There were optimistic voices from the conference about getting closer to the ambitious goal of curbing temperature rise.
One of the important announcements at COP 26 was the commitment of the leaders of the countries to net-zero emissions, of which Thailand, Nepal, Nigeria, and Vietnam committed to bringing net zero emissions by the year 2050.
On November 1, in the speech at COP26, Prime Minister Pham Minh Chinh stated: "Although Vietnam is a developing country that has only just begun the process of industrialization over the past three decades, Vietnam is a country that has the advantage of renewable energy, will develop and implement measures to reduce greenhouse gas emissions strongly with its resources, along with the cooperation and support of the international community, especially developed countries, in term of both financial and technology transfer, including the implementation of mechanisms under the Paris Agreement, to achieve net-zero emissions by 2050".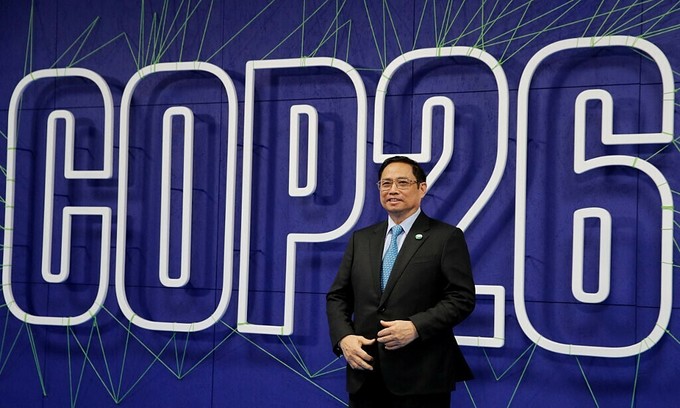 Following the announcement of Prime Minister Pham Minh Chinh, Vietnam has also officially committed to giving up coal-fired power. On November 4, Minister of Industry and Trade Nguyen Hong Dien and representatives of more than 40 other countries signed the Global Coal to Clean Power Transition declaration.
The international executive director of Greenpeace, Jennifer Morgan, said that the agreement mention of coal was a victory for this year's conference. "There is a signal that the coal era is coming to an end. That's the important thing", she said.
According to COP 26 President Alok Sharma, the end of coal is not far away: "I believe we are approaching a stage where dependence on coal for development will come to an end. A brighter future is closer than ever, a future of cleaner air, cheaper electricity, and greener."

Despite the difficult assessments at pre-COP 26, there were optimistic voices about the world being able to move closer to the ambitious goal set on combating climate change.
The head of the International Energy Agency (IEA) Fatih Biro said that with the implementation of all the commitments made at the conference so far, the world could limit the temperature increase of the Earth to 1, 8 degrees Celsius. Although the target of keeping the global temperature increase at 1.5 degrees Celsius has not been reached, it shows that countries are getting closer to the target. According to calculations, emissions need to be reduced by about 45% by 2030 for the world to be able to control the Earth's temperature to a maximum of 1.5 degrees Celsius by 2100 compared to the pre-industrial period.
After tensions and last-minute changes, representatives of 197 countries finally signed the Glasgow Climate Agreement at the COP26 conference in Scotland (England). Together, we hope for a better future from this treaty.