On 20th January 2023, the representative of SkyX Solar, Mr Samresh Kumar – Chairman & CEO had come to Bangkok, Thailand for The Announcement Ceremony of The Global Economics Awards. SkyX was proudly awarded as the "Fastest growing solar rooftop power developer", and Mr Samresh Kumar had been awarded as the "Best entrepreneur in renewable energy"!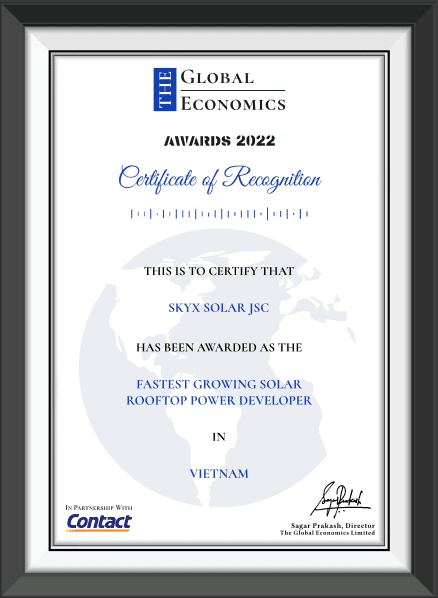 The Global Economics Awards identifies business enterprises that put their hard work into foraging the best work culture towards their regional and global economies. The Global Economics Awards program serves as the epitome of the perseverance and credibility of its recipients. We recognise the best market players in the realm of their business. This program aims to motivate and bolster the confidence of business enterprises. We advocate professionals across the globe, irrespective of their business domain.
Through the great effort of the expert team, we're thrilled to be recognized not only within Vietnam but also on a global scale. Continuously, SkyX will contribute to making the Earth green again.
𝗦𝗸𝘆𝗫 𝗦𝗼𝗹𝗮𝗿 – 𝗔 𝘀𝗸𝘆 𝘄𝗶𝘁𝗵 𝗻𝗼 𝗹𝗶𝗺𝗶𝘁𝘀!