As environmental issues become more and more concerned with increasingly complete sets of criteria, the achievement of a green certificate will help businesses dominate the market, and at the same time contribute to reducing costs in the long term.
Experts say that green technology is one of the leading solutions in the fight against climate change, and is also a promising field for future development when not only bringing environmental benefits. but also economic benefits for businesses.
The Ministry of Planning and Investment of Vietnam together with the participation of relevant ministries including the Ministry of Construction set a target of reducing annual energy consumption by 2.5 – 3% (per GDP) by 2020 and reducing GHG emissions by 2 – 3% from 2020 – 2030 through the Green Growth Strategy.
In Vietnam, the factory sector accounts for a large number of green building certification projects. The reason behind this segment dominating the market is related to the strength of multinational corporations in the green sector. Multinational corporations are directing activities to apply green buildings in Vietnam, in which these headquarters are located in countries with strict environmental laws. In addition, these corporations also tend to prioritize partnerships with Green Building Certification partners.
Green Building Certification is a tool to determine the environmental impact process of buildings and factories, to control and minimize the environmental impacts of production and business activities, ensuring they do not affect the environment. beyond the limit of sustainability.
Green building certification is seen as the driving force for sustainable development strategies at all levels: from basic design to operation management; from raw materials to final product manufacturing and all intermediate processes. Green building certification helps ensure that a factory meets basic environmental standards such as waste management, energy efficiency, air quality control, water-saving practices, etc.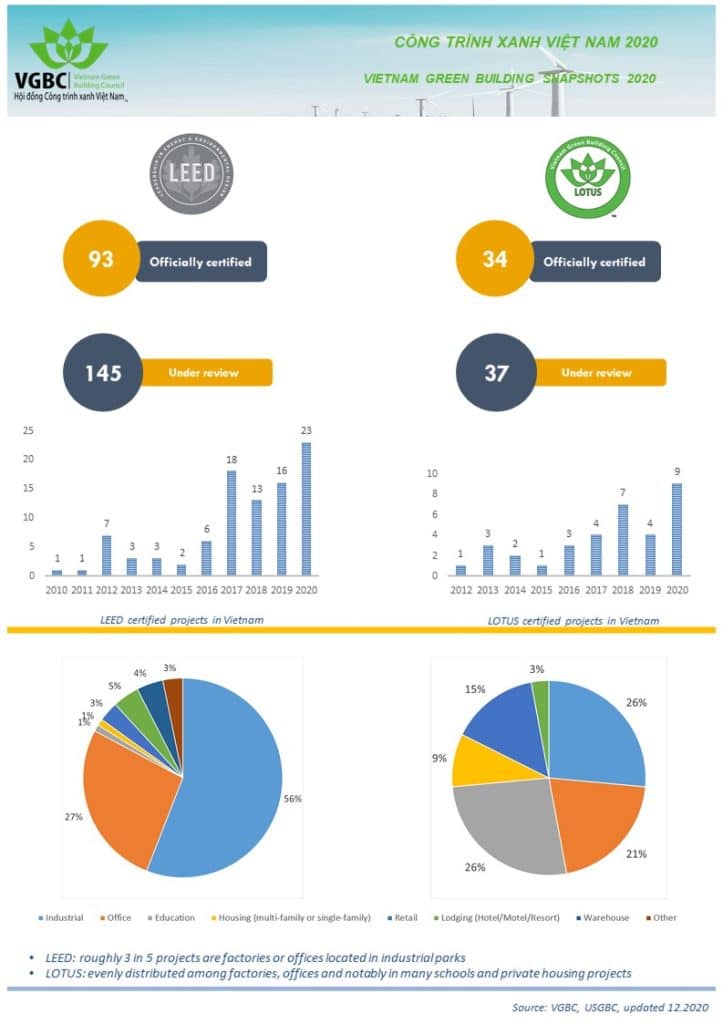 Many Green building certification schemes have been developed to address specific issues of different countries. Two of the most comprehensive and popular Green building certification programs in Vietnam are LEED, certified by the United States Green Building Council (USGBC), and LOTUS, developed by the Vietnam Green Building Council (VGBC)…
LEED certification has been developed by the US Green Building Council since 1998 making LEED one of the oldest green building certification programs available today.
LOTUS certification was developed by Vietnam Green Building Council and applied since 2010.
Both programs are internationally recognized among the most rigorous Green building certifications available today in terms of sustainability standards and socially responsible practices.
In addition, some other standards are less popular in our country such as GREAM (UK), Green Star (Australia), GBI (Malaysia), CASBEE (Japan), HQE (France), Green Mark (Singapore). .. is also used to evaluate the green building.
Many studies have shown that Vietnam has a lot of potential for renewable energy – green energy. Specifically, solar radiation accounts for about 2,000 – 5,000 hours/year, providing an energy source with a potential equivalent to 43.9 billion TOE (tons of oil equivalent).
Moreover, while installing a rooftop solar system, your business will not only increase the green point but also help you on saving electricity bills and cooling costs. Estimated, a 1MWp rooftop solar system can help businesses save up to > 4.7m USD just by taking advantage of their idle roof.
Hence, pursuing green technology is not only for the sake of the environment but also for an area that can create new vitality for the economy.